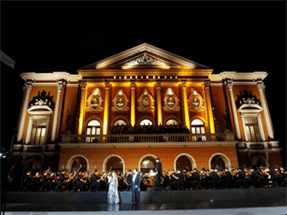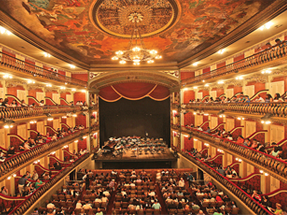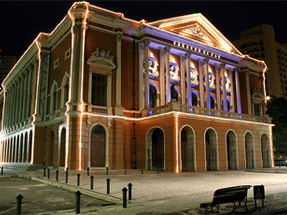 Inspired by Scala Theater located in Milan, Italy, Peace theater, whose name refers to the end of the Paraguay war in 1870, was built with funds from the Rubber cycle. Regarded to its decoration, we highlight some objects coming from Europe such as French bronze statues and chandeliers, Portuguese floor and the Italian marble staircase. Have been repaired recently, the theater was used by Mestre Vieira , one of the most popular singer in Pará state as well as the creator of "guitarrada" style, during his DVD recording.
Guided, hourly tours (Tuesday/Friday 9am/5pm, Saturday 9am/12am). Entry: R$ 4.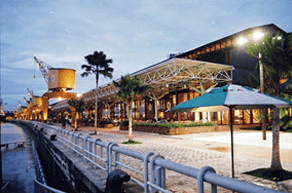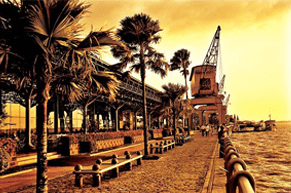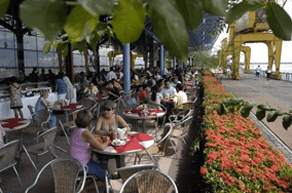 By just looking up to the scenario of the old port of Belém makes the walk worthwhile. Besides that, it is imperative that visitors check three English iron warehouses, which were repaired and currently used for entertainment. There one can find a theater, exposition center, handicraft stores, ice cream parlors, restaurants and Amazon beer brewery. At lunchtime, there are lots of options at the food court so that anyone can appreciate the local cuisine at a low cost. If you have free time, stay and enjoy the sunset alongside the river, which is one of the most beautiful of the city. At night, you can enjoy MPB concerts over a sliding stage, which is an adapted loader conveyor, turning it to a more interesting place.
Site: http://www.estacaodasdocas.com.br/institucional/sobre/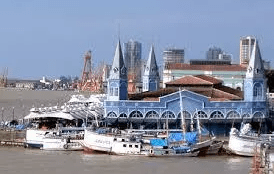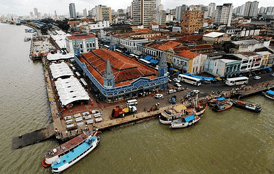 Coming from Europe in the nineteenth century and with its structure made from iron, the Ver-o-Peso activities start at 3:30 am. At this time, fishermen unload their cargoes like fruits – açaí, cupuassu, bacuri – , some fish like Arapaiamas, Dourados, Pescadas, Traíras and Tucunarés – as well as many people yelling while doing their businesses. From 6 am. to 2 pm, it is the time when salespeople offer the freshest fish. Outside, in the free market, there are lots of tents selling regional fruits, roots, condiments, herbs, medicinal oils, handicrafts and, of course, a great variety of local food like tacacá and maniçoba.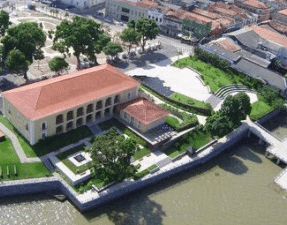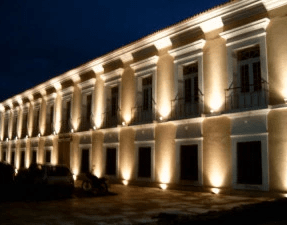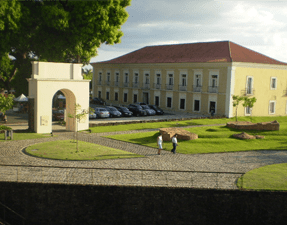 Being an old residence of a mill owner, the eleven windows house is a cultural space, having a contemporary art museum with Tarsila do Amaral and Lasar Segali artworks. Take advantage of the beautiful view from its garden as well as from the appealing Boteco das Onze restaurant.
Entrance: R$ 2,00 (free on Tuesdays).
Site: http://museucasadasonzejanelas.blogspot.com.br/p/quem-somos.html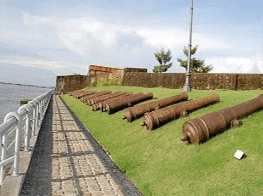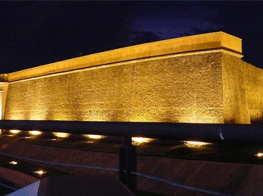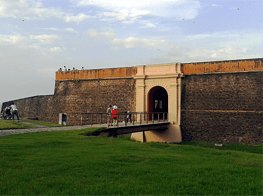 As a milestone in Belém foundation, the Castle fortification was built so that the city could be protected from invaders. Real cannons are exposed in the inner courtyard,facing Guamá river and Ver -o-Peso market. At the fixed exposition room with pottery pieces, you can have a look at the Muiraquitã, which is an indigenous amulet made of carved stone in a frog format. (You can buy some replicas at the Craftsman house, within Jeweler Pole).
Entrance: R$ 2,00 (free on Tuesdays).
MANGAL DAS GARÇAS E RESTAURANTE MANJAR DAS GARÇAS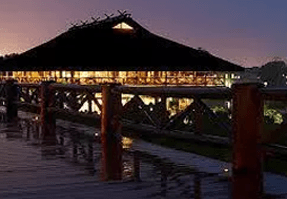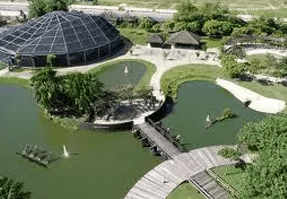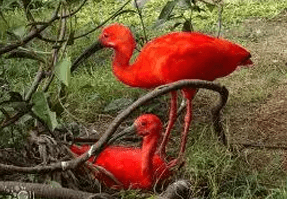 In a 40.000 m² pleasant area, facing Guamá river, visitors can meet nursery of 120 birds trying to get the best angle to be photographed. Another attractions of the place are: Butterflies nursery for 600 species, Orchidary, Amazon Museum of Navigation, handicraft stores, a 360º view mirador and the Heron Feast restaurant.
In case you want to check all of them, the best option is to buy a R$ 9 passport. Heron Feast restaurant, located within Herons Mangrove, has a sophisticated, but cost-effective paraense menu well formulated and very delicious. Its specialties are fish, steak and birds with local ingredients, accompanied by salad and some first course meal. At lunchtime, the restaurant serves buffet and dinner is à la carte.
Entrance is free, but admission to each attraction costs R$ 3,00.
BASÍLICA SANTUÁRIO DE NAZARÉ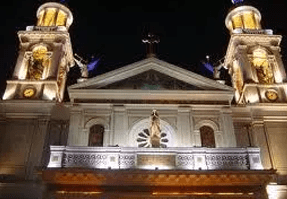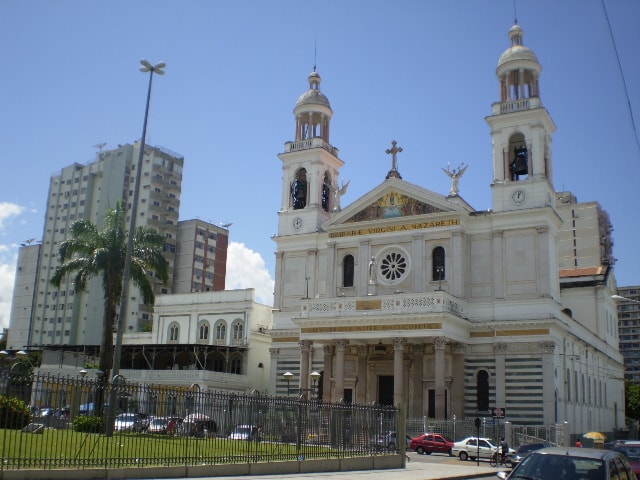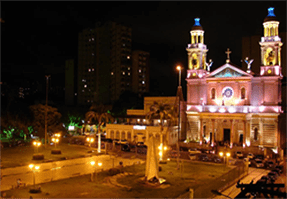 In 1700, Nazaré church was built in the place where José Placido had found an image, which not only names the church bot also hosts the original image. There are 54 stained glasses that depict Biblical passages.
Entrance is free.
POLO JOALHEIRO (SÃO JOSÉ LIBERTO)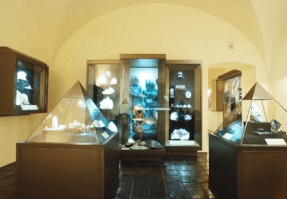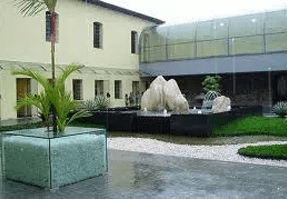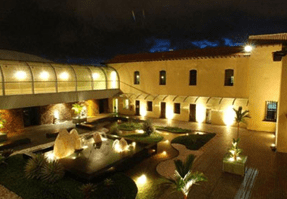 In the past, São José liberto pole was a jail, a convent, a pottery, a hospital. At present, the place houses a jewelery and the Craftsman house, where both jewel and handicraft are marketed. There, visitors can also meet the Gem Museum, which has samples of some minerals and jewel collections. The building also houses a memorial room that worked as an old prison cell in the past.
Entrance is free.